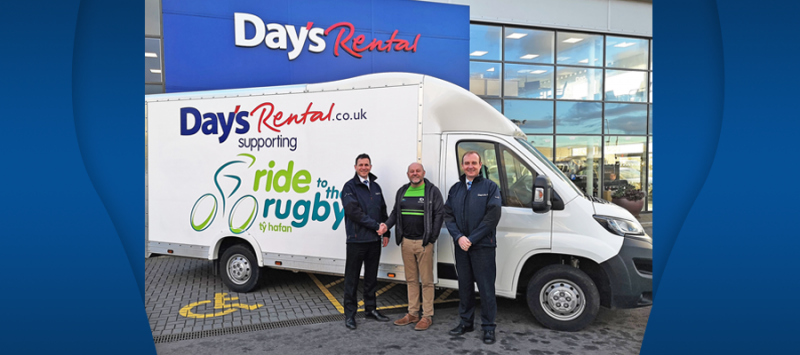 On Tuesday 29th January 2019, a fantastic team of 40 cyclists set off on their 'Ride To The Rugby' fundraising cycle ride to raise funds for Ty Hafan.
Their journey began at Cardiff's Principality Stadium and will end at the Stade de France in Paris in time to attend the 6 Nations international game between France and Wales on Friday 1st February.
The entire cycle ride measures a whopping 320 miles and will take approximately 4 days to complete.
Ex Welsh international rugby player, Rupert Moon, and renown tenor, BBC Radio Wales presenter, Wynne Evans, also known as Gio Compario from TV's 'Go Compare' comparison website, are two of the many riders taking part.
---
We're proud to have supported this worth cause through the provision of an event support vehicle. Pictured above is Mike McCarry, Managing Director of Day's Rental, along with Branch Manager, Stuart Jones, handing the vehicle over to Richard Smith, who along with Andrew Jones (not pictured) are the event organisers.
We wish them every success in their challenge to raise funds for a fantastic cause. Good luck to all involved!
---
>>> Click here if you wish to donate to Ty Hafan
>>> Donate to Wynne Evans' Just Giving page
>>> Donate to Rupert Moon's Just Giving page
>>> Read more about the 'Ride To The Rugby' fundraising event