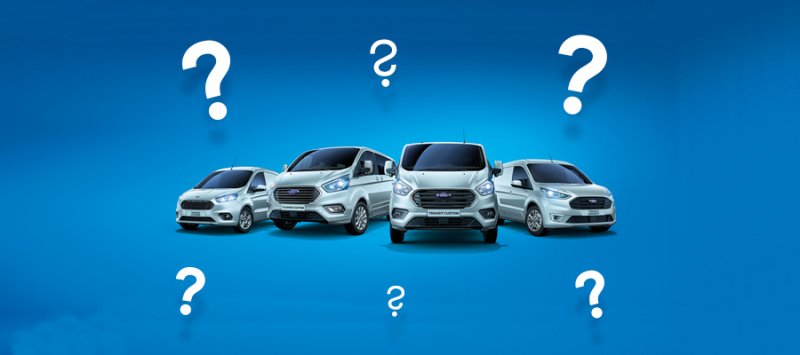 What Van Should I Hire?
Are you looking to hire a van long-term, but don't know which would be most suitable for your business?
Read our handy guide below, where we explain why each type of commercial vehicle is suitable for different professions.
SMALL VANS
Vehicles like the Ford Transit Connect and Peugeot Partner are a great choice for both start-up and small business'.
Usually, a small van is no bigger than your average-sized car, such as a Ford Focus, so no one should have any trouble getting used to driving them.
Being so compact, they are great for driving around town and through narrow streets, but still provide you with a deceptively spacious loading area. This also means they offer great fuel consumption levels, making them very affordable vans to run.
These factors make Small vans the perfect automotive solution for mobile hairdressers, couriers, florist, photographers as well as many other similar professions.
>>> Click here to see our range of Small vans
MEDIUM VANS
This size of van is the most popular of all in the UK. With a load space of up to 6 cubic metres, a capacity of up to 1.5 tonnes and being small enough to park in a standard parking bay or driveway, it's easy to see why a Medium-size van is liked and used so much.
With its ability to store objects up to 3 metres long and providing a space to mount tools to walls, it's the ideal vehicle for numerous professions including builders, delivery drivers, joiners and plumbers.
Our hire range includes Medium-size vans like the Ford Transit Custom.
>>> Click here to see our range of Medium vans
LARGE VANS
Larger vans are a great choice for many business' as they can be driven on a regular UK car licence, allowing employees to operate them without undertaking additional tests. Please note – the gross vehicle mass must be no more than 3.5 tonnes.
With around three extra cubic metres of space than a Medium-sized van, bigger vans like the Ford Transit Jumbo L4 are typically used by companies who need to transport big loads, such as removals and logistics. They also usually have a higher roof than usual, providing the user with space to stand up right when loading and unloading, making the process easier.
>>> Click here to see our range of Large vans
PICKUP TRUCKS
Years ago, pickup trucks were mostly bought by tradespeople and farmers, but today, it appeals to a much wider mass market.
The third generation Ford Ranger is a pickup designed to appeal to both commercial and private users. With a payload of up to 1,269kg and a large loading area, the Ford Ranger can be useful for all kinds of business and personal uses.
In addition, the double cab models provide transport for up to five people, giving you the flexibility to carry more passengers too.
With its ability to carry large loads, a Pickup Truck is most suited for use by hauling and delivery companies to carry out small, residential jobs. It's also ideal for landscaping and other mobile services.
>>> Click here to see our Pickup Truck range
DROPSIDES AND TIPPERS
What's the difference?
A Tipper can offload its contents by being tipped backwards, whereas a Dropside is emptied by folding down its sideboards.
As they provide a flat loading surface with more access to the load area, it's best suited to carry loose material like cement, gravel and sand, making them ideal for tradesmen and builders. This type of vehicle is also great for landscapers as they can be used to transport soil and garden waste.
Choosing between a Dropside or Tipper mainly depends on whether you need the load raised for you or you can do this yourself, but bear in mind that unloading times are a lot quicker with this facility.
>>> Click here to see our Dropsides & Tippers
---
LONG TERM HIRE
If you're interested in hiring a vehicle long term, you can find out more here >>>
---
>>> Click here to contact our hire team
>>> Click here to follow us on Facebook
---
Images for illustration purposes only.
---