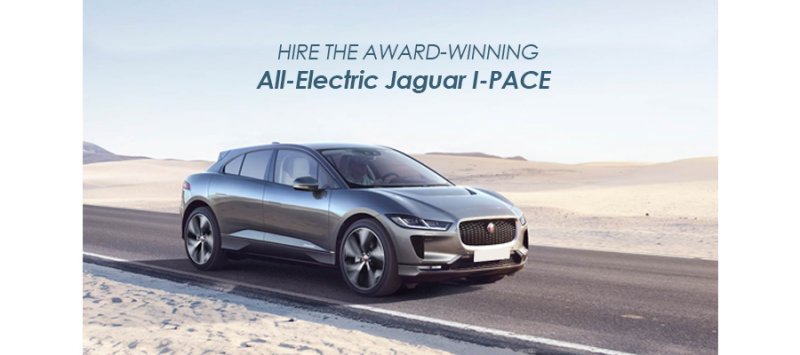 Hire the Award-Winning All-Electric Jaguar I-Pace
This year, at the New York Motor Show, the All-Electric Jaguar I-Pace won the coveted World Car of the Year award of 2019. Jaguar's first fully electric car was voted top of the 40 nominated cars by a team of 86 worldwide automotive journalists, including Auto Express's Steve Fowler and Mike Rutherford.
The Jaguar I-Pace's outstanding looks and ability to combine a zero-emission 292 miles WLTP-certified range with a 4.5 second 0-62mp sprint, was enough to awe the World Car of the Year judges.
What's great is, you can hire the all-electric Jaguar I-Pace from us, at one of 11 Day's Rental locations across the UK!
>>> Click here to find your nearest branch
---
Upon receiving the outstanding award, Chief Executive Officer of Jaguar Land Rover, said: "it is an honour that the Jaguar I-Pace has received such an accolade form the prestigious World Car jurors. We started with an ideal, to move towards our Destination Zero vision; zero emissions, zero accident and zero congestion. I-Pace is our first step to achieving this, and it was conceived when EVs were little more than a niche choice."
3-Times Award-Winning Jaguar I-Pace
The Jaguar I-Pace's award-winning abilities don't stop there. It also won the title of '2019 World Car Design' & '2019 World Green Car'!
Back in 2018, it also won Auto Express's 'Car of the Year 2018' award!
---
Hire Now!
So, what are you waiting for? Hire the All-Electric Jaguar I-Pace and you won't be disappointed. Book now >>>
---
Contact Our Expert Hire Team
Our team of experts will be more than happy to help source the right hire vehicle for you and provide you with a quote.
Click here to send us an enquiry or call us for free on 0800 389 7626.
>>> Click here to follow us on Facebook