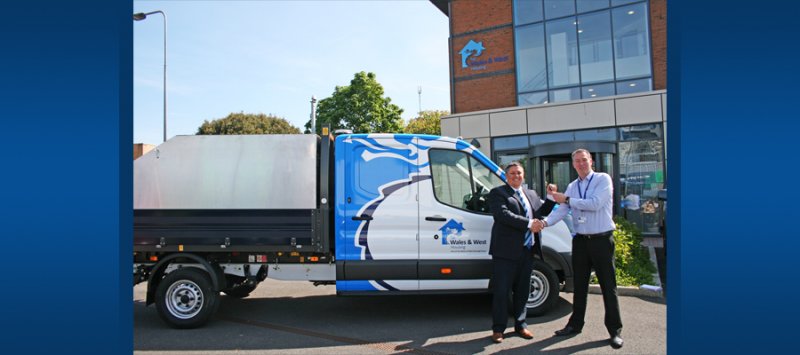 Wales & West Housing Hire Ford Utility Cab Tipper
Stephen Dando, Branch Manager at Day's Rental, Cardiff, was pleased to meet with Peter Jackson of Wales & West Housing, to hand over keys to their brand-new Ford Utility Cab Tipper, hired from us on a 36-month contract.

This Ford Utility Cab Tipper has been expertly adapted by our team here at Day's Rental. With 3 seats at the front, the rear has been converted for useful storage space.
Our fantastic team have also fabricated a storage compartment into the back to contain materials like wood chippings when shredding them directly into the back of the vehicle. Additionally, this vehicle includes external tie down hooks to allow a net to be attached to prevent waste escaping.
Wales & West Housing, based in Cardiff, manage more than 11,500 high quality, affordable homes in 15 local authority areas across Wales to make a difference to people's lives, home and communities. We're very pleased to be working with this orgnaisation and hope to continue doing so in the future.
---
Does Your Company Need a Hire Vehicle too?
Our teams of experts, located at 11 branches across the UK, can help provide you with a hire vehicle that is specific to your needs.
---
Do You Need to Hire a Vehicle in Cardiff too?
Our Day's Rental branch in Cardiff can off a wide range of hire, including cars, vans, minibuses, tippers and more...
---
Date added: 17th May 2019