Are you looking for vehicle hire that complies with Central London's new Ultra Low Emissions Zone (ULEZ)?
Our fleet of over 12,000 hire vehicles are ULEZ & Euro 6 compliant, so there's no added costs when you hire from us! Hire from a range of Cars, Vans, Tippers, Lutons & more...
>>> Click here to see our range of hire vehicles
With the recent opening of our new Day's Rental branch in Watford, we can offer the London area with quality hire vehicles, at great prices.
---
What is ULEZ?
ULEZ, otherwise known as Ultra Low Emission Zone, is a new law that was brought into effect from Monday April 8th, 2019 to help improve air quality. It operates 24 hours a day, 7 days a week, every day of the year and covers the same area of central London as the Congestion Charge, but will soon expand to take in most of the city. It is estimated to effect a whopping 2.5 million vehicles that drive in the capital each year.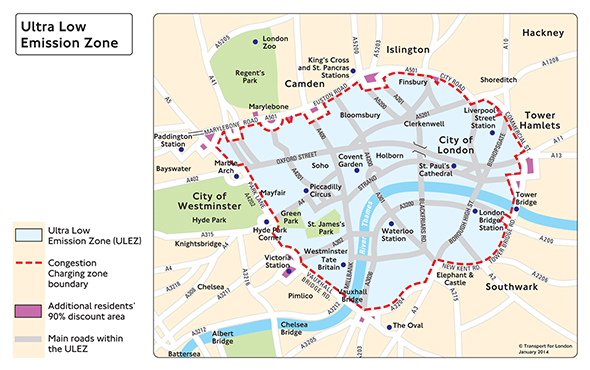 ---
What Charges Will You Face If Your Vehicle is Not ULEZ-Compliant?
If you were to hire a vehicle that does not meet the ULEZ standard, you would face the following daily costs:
£12.50 for most vehicle types, including cars and vans (up to and including 3.5 tonnes)
£100 for heaver vehicles, including lorries (over 3.5 tonnes)
---
Do You Need a ULEZ-compliant Hire Vehicle?
We have a wide range of over 12,000 hire vehicles available including Cars, Vans, Minibuses, 4x4s, Luton's, HGV's & more… see our entire vehicle range here >>>
---
Contact Our Expert Hire Team
Our team of experts will be more than happy to help source the right hire vehicle for you and provide you with a quote.
Click here to send us an enquiry or call us for free on 0800 389 7626.
---
>>> Click here to read our latest news & updates
>>> Click here to follow us on Facebook
---
Image credits: ukmap.co, buyacar.co.uk