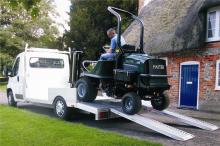 Days Rental Special Vehicles lead the field in the design and manufacture of 3.5 ton plant transportation equipment.
Multifunctional bodies
No tachograph needed
Low load angle
High payloads
Built on all mainstream manufacturers
Ability to produce bespoke bodywork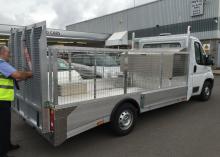 We have developed a product which not only offers high payloads (1,600kg), but has a bed height from the ground of only 530mm. This unique design means the vehicle can be used as a traditional dropsider to carry general items i.e. jet washers, gas cylinders, scaffolding, but also allows it to deliver light plant, removing the need to tow a trailer or have the cost of fitting and maintaining a tail lift.
For more information call us on 0800 3897626, email us at hire@days.co.uk or use our contact page.
Day's rental reserve the right to amend vehicle spcification without prior notice. Pictures are for illustration purposes only. Kerb weight includes 10 litres of fuel and no driver.