Days Rental are pleased to be able to offer a versatile vehicle in support of current Traffic Management requirements found on today's roads.
The vehicle utilises the benefits of the 'Low Ground Clearance' and allows the deployment of Road Cones easily and without the adaptations of 'Drop-Wells'. Again due to its low level the loading and un-loading of equipment can be easily performed and coupled with a low level ramp it increases the vehicles versatility. Mobile traffic lights are easily loaded via the ramp at the rear which also has an incorporated 'Blue Arrow'.
Features include:
Full Chapter 8 Markings to Highway standards
LED Roof mounted highway specification beacon with Pattern control
Amber strobes to further increase the vehicles visibility
Lightweight rear ramp
Telescopic Safety Hand Rails to allow loading and offloading safely
Storage box's over the wheel arches to utilise space and allow storage
Permanent view, rear facing camera and screen in the Cab
In short, this is a 'One-Stop' solution to any situation that requires Traffic Management.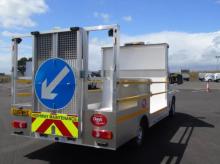 For further information or Booking Contact us today
Day's rental reserve the right to amend vehicle spcification without prior notice. Pictures are for illustration purposes only.