Offer Details:
Hire Tesla Model 3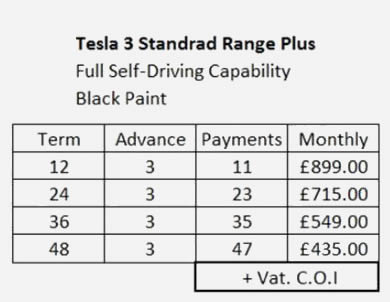 What Self-Driving Capabilities Does it Feature?
Navigate on Autopilot: automatic driving from motorway on-ramp to off-ramp including interchanges and overtaking slower cars.
Auto Lane Change: automatic lane changes while driving on the motorway.
Autopark: both parallel and perpendicular spaces.
Summon: your parked car will come find you anywhere in a car park. Really.
As if this Tesla didn't have enough gadgets, it also features Autopilot which enables your car to steer, accelerate and brake automatically for other vehicles and pedestrians within its lane. That's one intelligent car!
So, don't miss out on this one-off chance to experience a Self-Driving car!
---
*Terms and conditions apply. Prices exclude VAT and insurance. Price based on 10,000 miles per annum allowance. Excess mileage charge of £0.11ppm. Available on 36 month contract only. Offer subject to availability. Not in conjunction with any other offer. Images for illustration purposes only.
---
Disclaimer from Tesla
The currently enabled features require active driver supervision and do not make the vehicle autonomous. The activation and use of these features are dependent on achieving reliability far in excess of human drivers as demonstrated by billions of miles of experience, as well as regulatory approval, which may take longer in some jurisdictions. As these self-driving features evolve, your car will be continuously upgraded through over-the-air software updates.
Included In Offer:
Registration Fee/Road Tax
Contract Fee
Excellent Customer service
Self Driving Capability
Offer Code: Tesla3